After years of experience with bulletproof vests, we think that the best bulletproof vest in the world for the money is BulletSafe's bulletproof vest, based on its comfortability, great protection (NIJ Level IIIA), and great value for its price, check out our bulletsafe vest review.

We have tried during the years lots of bulletproof vests both as sellers of survival gear and as users during our military service and for different security jobs and we can easily recommend "BulletSafe's" bulletproof vest as the best bulletproof vest in the world for the money. 

Our conclusion is based on a few parameters that are essential for us(you can see them below).
We are aware of the importance of a bulletproof vest as a life-saving item and we hope that we can help you to get a decision on this important question.

This article includes video demonstration at the end.
The Best Bulletproof Vest In The World For Your Money, Bulletsafe Vest Review
Please note, our posts may contain affiliate links, if you buy using one of them, you will pay nothing more, but we'll get a small commission, which keeps the lights on. Thanks!
Use our Coupon code: Share – to get free shipping when ordering from BulletSafe.
A Bit Background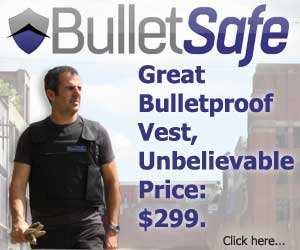 In order to answer this question, there are a few things that we have to understand first.
Choosing the right bulletproof vest for you depends on your specific needs as there are several types of vests each one will provide protection from different threads.
In addition to ballistic protective vests which are the most common ones, there are also edged blade and spike protective vests.
Each type has different degrees of protection which are determined by different standards in different countries, however, the most common standards worldwide are the US's National Institute of Justice(NIJ) and the UK's Centre of Applied Science and Technology(CAST) standards.
Both, CAST and NIJ are the main regulators of manufacturing and selling of body armors with NIJ are responsible for the ballistic body armors and CAST for the edged blade and spiked body armorers.
Who Are We?
We (EdenG) are a group of 3 men, all of us are ex-militaries and I personally have lots of experience selling survival gear and first aid products for a company which is selling most of her products via Amazon to all over the world.
That means that we have experienced lots of survival gear including body armorers.
IMPORTANT NOTES:
In this article, we are going to discuss the ballistic body armors or more specifically the bulletproof vests.
Bulletproof vests come in different degrees of protection, each one will protect against different ballistic threads.
The different Degrees are marked as NIJ II, IIa, III, IIIa and IV levels, the first 4 levels are usually referred as soft armors and are designed to protect against most of the common firearms includes 44 Magnum, 357 Magnum, and 9mm with the IIIa level offers the most weapon variety protection and offers the highest level of protection for soft armors.
The IV level, mostly used by militaries and special police units is designed to protect against large and high-velocity bullets shot by submachine guns and rifles and usually includes hard ceramic plates(ceramic bulletproof vests).
You can read more about it on the NIJ website here.
It is important to pay attention to the fact that Bulletproof vest became a brand name and a lot of vests and clothing pieces might be referred as a bulletproof vest or bulletproof style while they are not a real bulletproof vest at all.
In addition, there are a lot of tactical vests and army vests which don't have any bulletproof abilities at all as they are not designed to protect against bullets and their main purpose is storage.

So please make sure that you are reading all the information while approaching to buy one.
The Law:
Another note to keep in mind: there are a few territories in Australia and Canada that have some restriction regarding buying and possessing of body armors.
Basically, in the US it is legal to buy and possess a body armor apart to some exceptions:
In Connecticut, body armor can legally be bought only face-to-face and not via phone or mail.
In Louisiana, wearing body armor in a school property is forbidden.
Do make sure to check your region's regulation before purchasing body armor.
Important Parameters:
The parameters that we used to determine what is the best bulletproof vest are:
Soft body armor level IIIa-since Handgun violence is the most common shooting event in the US, an IIIa level body armor which is designed to protect against almost any handgun out there is a must and we don't recommend buying a lower level vest.
Less than 350$- the vest must not be too expensive so it can be owned by almost anyone who needs one.
comfortability- the vest must allow you to move freely while protecting your vital organs thus it needs to be lightweight and comfortable for all-day use, a bulletproof vest is generally not a comfortable piece of clothing and that's why it is very important that it would be made of breathable and adjustable good quality materials.
After selling and experimenting with hundreds of products including bulletproof vests we can feel comfortable to  recommend on a bulletproof vest which is Suitable for our parameters and is in our opinion the best bulletproof vest in the world for the money:
BulletSafe's Bulletproof Vest
Being an IIIa level vest with a great price of 299$ this one is definitely the best or one of the best bulletproof vests in the world for the money today, we are referring here to the new version of the vest which has got some serious updates to its comfort and concealability.
My first impression from the vest is its comfortability, after wearing it for a full working day I can easily say that it is the most comfortable vest that I have ever used for that kind of price range, at the beginning it looked a bit thick and stiff to me but after a while it became pretty comfortable although some people would think that it isn't so comfortable, I guess it is also a matter of body types and personal preferences, so this parameter might have a different conclusions from different people.
The new version comes with flush plate pockets and a single top strap system which helps it become more concealable.
It has a CoolMax rear liner and the top and side straps are fully adjustable which makes it fit almost any body type, the vest comes in several sizes up to 4XL which are a bit pricier.
The BulletSafe bulletproof vest is completely concealable and designed to conceal under any jacket, shirt or uniform.
The Bulletsafe bulletproof vest comes with pouches on the back and front and can be easily transformed into a bulletproof vest for rifles and heavier weaponry,  basically, all you have to do is buy ceramic plates(which are also available on the bulletSafe site) that are perfectly designed to fit those pouches and boom you've got yourself a heavy weaponry bulletproof vest.
The carrier material is 600 denier, it comes only in black, weighs between 5.2-6.4 lbs and it has a 5 years guarantee.
The vest is 0.48 inches thick including the outer carrier in almost all areas.
Dimensions of the vest
We have experienced much more expensive body armors and this one has really surprised us for this kind of price range.
I am not saying that there aren't better vests available but for its price, it is the best vest in the world for our opinion.
Check out this impressive demonstration of the BulletSafe's Bulletproof vest in action vs a Desert Eagle .50
The BulletSafe Bulletproof Baseball Cap
Another great product manufactured by Bulletsafe is the bulletproof baseball cap.
If you are looking for greater protection, this product is really cool as it offers an IIA protection which includes .22LR, .38, .380, .40, 9mm, and .45ACP rounds.
My impression of the hat is that it looks cool, you can not tell that this is a bulletproof cap and it is quite comfy for daily use.
This bulletproof cap looks cool but it is not a joke and has serious capabilities to save your life.
The cap is made from a hard plate of compressed polyethylene covering the front 33 percent of it.
It will not protect you from the back as the protective panel is located only in the front and it is actually the first of its kind.
So if you want great head protection but don't want to walk around with a bulletproof helmet on your head than you should defiantly check it here!
You can check out this video demonstration of the Bulletsafe bulletproof baseball cap!
Conclusion
The BulletSafe Bulletproof Vest in its new version is a big contender for being the best bulletproof vest in the world For The Money.
A bulletproof vest is a life-saving product and you want to have the best product for this task, this reliable vest is the best for the job and comes with a very attractive price and it is our first choice as it comes to a bulletproof vest.
An article that you might find intresting: Best emergency escape ladder for balcony rails.